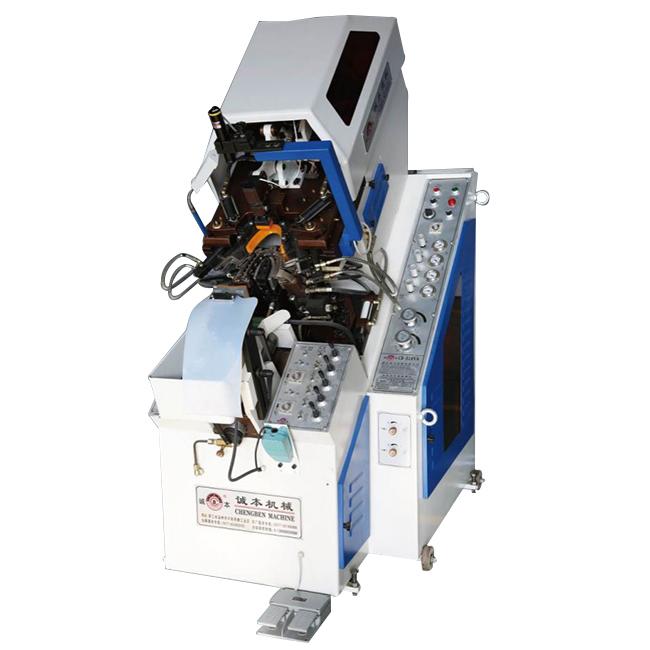 inquiry
7-Pincer Forepart Lasting Machine
The 7-pincer forepart lasting machine is used for forepart lasting.
Specification
Machine size(L*W*H):1810*1000*1950 mm
Packing size: 1920*1030*2120 mm
Output:3000 pair/8hours
Pressure:50 kgs/cm2
Power:2 HP
Electric heating power:1 kw
Mass of hydraulic oil:115 kg
Features
The newly designed synchronous falling function of the inner and outer supporting platform, as well as the intelligent buffering of the support platform top significantly reduces the upper surface damage rate.
The shoe head pressing machine utilizes an adjustable mechanism to adjust the pressing head height according to different last forms. This ensures a better binding effect.
The all-purpose fastener and special 7 wiper ensure the vamps evenly fit the last without any hair angles after binding, thus ensuring the final quality.
The retainer's central fixing seat is designed with the latest adjustable quick release design, allowing for a quick retainer replacement.
The claw plate size can be synchronously and quickly adjusted to prevent gap angles.
Each claw has an adjustable automatic and manual pull down function to balance the vamp tension and ensure the best binding effect.
The pressure and speed adjustment device of each mechanism is equipped with an exterior pressure display to ensure a fast operation.
The machine is equipped with a cross light projection device, making toe cap calibration and position selection easy. The selection and function switch feature centralized control, making operation easy.
Providing customers with complete footwear manufacturing solutions, Chengben Machinery is here to satisfy all of your shoemaking needs. Our equipment can be applied in the production of all sorts of shoes, including rubber shoes, leather shoes, sneakers, rain boots, and PVC slippers. Our footwear production lines can be tailored to your needs, ensuring you have all of the necessary machinery to make your own high-quality products with outstanding efficiency and speed. Besides that, we offer excellent after-sales services to back up our equipment, ensuring the equipment is always working as intended and minimizing downtime.
Other Products