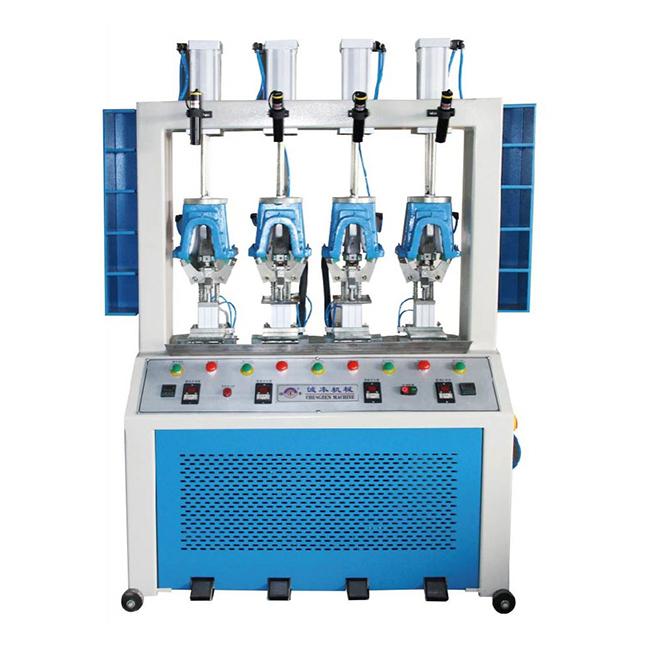 inquiry
Back Part Molding Machine With 2 Hot and 2 Cold Stations
This back part molding machine features two hot and two cold stations. It is used to mold heel counters and sides. In order to facilitate shoe mold replacement, the upper machine mold is equipped with air bags, making it unnecessary to change the mold.
Features
During operation, users can set the machine's precise motion to obtain a better heel molding effect.
The upper mold's air bag is made of a special material and a protective leather cover to prevent shoe scratching and obtain a better molding effect.
The die casting time can be set according to the customer's actual requirements.
The cold and hot die feature the same structure, making operation easier and improves efficiency.
The molding machine is equipped with a rearview mirror to facilitate accurate vamp location positioning.
Specification
Machine size:1500*900*2050mm
Net weight:419kg
Electricity:1.1kw
Providing customers with complete footwear manufacturing solutions, Chengben Machinery is here to satisfy all of your shoemaking needs. Our equipment can be applied in the production of all sorts of shoes, including rubber shoes, leather shoes, sneakers, rain boots, and PVC slippers. Our footwear production lines can be tailored to your needs, ensuring you have all of the necessary machinery to make your own high-quality products with outstanding efficiency and speed. Besides that, we offer excellent after-sales services to back up our equipment, ensuring the equipment is always working as intended and minimizing downtime.
Other Products